US Gambling Laws for 18+ Poker Rooms
Navigating the gambling laws regarding poker rooms can be a daunting task, especially for new 18 and up players. Things can get even more confusing when deliberating between online rooms versus brick and mortar rooms in various states.
In general, there are a few states that offer live poker to 18 and up players in their card rooms and casinos. That does not mean, though, that there are no options. As you will read in the upcoming sections, some parts of the US cater to 18 and up players for poker.
Things open up even more when it comes to the laws for online poker rooms. With all the online rooms featured on this site, players only need to be 18 or over to enjoy legal online poker.
By using this guide, 18+ players can discover more details and understanding of the necessary laws surrounding online and in-person poker, what states and sites allow such players, and how to begin playing them.
What is the Legal Minimum Age for Real Money Poker in the United States?
The legal age for real money poker in the United States depends on each state's laws. In most states, the required gambling age is 21 years old. However, there are a few options that allow 18 and over poker sites, including:
Montana
Minnesota
Wisconsin
Wyoming
Michigan (select casinos)
Oklahoma (select casinos)
California (select casinos)
These states allow players 18 and over to enjoy poker in brick and mortar casinos and card rooms, offering an alternative to online-only play.
What is the Legal Minimum Age for Online Poker Sites Accepting US Players?
The age requirement laws for online poker sites is a little more straightforward compared to those of in-person card rooms across the United States. While brick-and-mortar poker rooms can vary between 18 and 21 age requirements, online poker rooms usually only need players to be 18 years old.
For the recommended online card rooms mentioned on this page, the age requirement for poker is 18 years old.
State and Federal Gambling Laws Concerning Poker
When it comes to specific state laws regarding poker, things can vary significantly. Some states may allow 18+ players access to poker, while others outlaw the game altogether.
Nevertheless, concerning state and federal gambling laws, the two main ones to know are the Unlawful Internet Gambling Enforcement Act of 2006 and the Federal Wire Act. The repeal of PASPA in 2018 has impacted how these laws are applied to the US-based gambling niche.  However, neither of these laws prohibits US players from engaging in legitimate offshore online poker gambling.
Washington state has banned all forms of online gambling, regardless of the source. We would not be surprised to see their position change as state-regulated online poker and other forms of gambling expand across the USA.
Unlawful Internet Gambling Enforcement Act of 2006
Essentially, the Unlawful Internet Gambling Enforcement Act (UIGEA) regulates and oversees gambling-related transactions and how they are processed. Luckily for players, this law does not impact them as it provides regulation directed at gambling business owners and operators. The law does impact the range of options available to Americans seeking to play online or mobile games, a situation that is feeding the increasing integration of cryptocurrency payment methods within the online gambling market and the e-commerce arena.
Federal Wire Act
The Federal Wire Act prohibits gambling businesses in the United States from accepting wagers across state lines. When it comes to playing poker online, the Federal Wire Act has caused a few problems for states that have entered interstate poker gambling compacts to share player pools. Nevertheless, this law creates no issue for legally playing online with offshore poker rooms. This is just another law focused on poker room owners and operators that does not impact players.
With the growth of online gambling and the legalization of sports betting in various parts of the United States, the specifics of the UIGEA and Federal Wire Act have gotten a little murky and the DOJ has reinterpreted these laws a few different times in a few different ways. As the US gambling market evolves, we suspect the application of these laws will evolve along with it.
If my state does not license local poker rooms, is it still legal for me to play 18+ poker games online?
Like we said above, only a select few states offer domestically licensed poker rooms (either online or offline) to 18 and up players. If you are not in one of the aforementioned states, then you are not going to find any locally sanctioned options.
Luckily for 18+ poker players, online play is not prohibited by any federal laws in the United States. It should be noted, however, that Washington does not allow online gambling of any kind within its jurisdictions.
How To Play 18 and up Online Poker Legally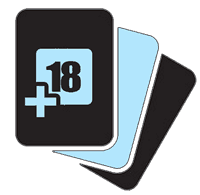 The key to playing poker online legally is selecting a destination that is operating legitimately within the industry. There are a few things to you should do to ensure the site at which you are playing is not going to land you in hot water.
Verify that the online poker room at which you are about to play is operating legally within the industry. In the case of the poker sites found on this page, we have done that for you. Each of our recommended poker sites is either independently licensed or is owned and operated by a parent company holding licensing for one or more jurisdictions. It is vital that you only play at reputable, legitimate 18+ online poker sites.
Make sure that the online poker site in question accepts players who are 18 and over. There's no point in vetting a site further that is not going to let you play real money games regardless. All of the poker sites you see listed on this page are 18 and up.
Once you have selected a reputable poker site at which to play, verify that the poker site accepts a form of payment that is within your means. For example, if a poker site does not accept a deposit method that you can or desire to use, then that particular site is probably not your best option. If you want to fund your account using Bitcoin, but the poker site does not accept cryptocurrency, then you'll want to move on and find a site that accepts your preferred form of payment. (Helpful tip: we recommend using Zelle to make instant Bitcoin purchases so that you can use the most secure and reliable funding method without having to endure any waiting periods – it definitely streamlines the process.)
Rely on industry professionals who have vetted legitimate online poker sites to recommend trusted online poker rooms that have a track record and reputation for paying their players quickly and efficiently. The last place you want to lay down any bets on poker games is at a site that isn't going to pay out your winnings. (Helpful Hint: using Bitcoin or other cryptocurrencies to fund your account allows you to get same-day payouts of your winnings in most cases.)
If you follow these steps, then you won't have to worry about violating any laws and you can proceed with enjoying 18+ real money poker games without any legal worries.