18+ Online Poker In Michigan
If you've got grubby mitts, the Mitten State is a great place to gamble. And if you're under 21 years old, it's even better: Michigan is one of the only states that has domestic poker options for players aged 18 and up. However, online 18+ MI poker isn't actually available in a state-licensed capacity. Online players between 18 and 20 years old should instead check out one – or more! – of the sites featured in our short US state poker guide for Michigan.
Of course, the digital felts at these offshore 18-friendly sites feel just as good – and in some ways much better – than any venue operating inside MI borders. For one thing, they have more players and more tournaments, so you'll always have a full house. For another, they actually support cryptocurrency, so you can be royally flush with cash. And obviously, you can join and bet real money online at just 18 and up, which is their biggest ace in the hole!
Best 18 And Over Michigan Poker Sites For 2023
Are Local Michigan Poker Rooms Legal For Players Under 21?
Yes. Well, some of them are. Michigan has both commercial and tribal gambling venues. The commercial casinos in Detroit all have a minimum MI gambling age of 21 to play poker and other games.
Meanwhile, the 25 or so Indian casinos in Michigan allow poker gambling at either 18+ or 21+, depending on the venue itself. (As in most other states with tribal gaming, the chief minimum age determinant is whether or not a given casino serves alcohol.)
Is MI Online Poker Legal For Players 18 And Up?
Yes and no. If you play internationally with a trusted online MI poker room operating outside of MI/US borders, it's perfectly legal to join at just 18 or older. There are no state or US poker laws preventing access to such services.
If you'd rather play online poker in MI with a domestic operator licensed by the state, though, you'll need to be 21-plus. We don't expect this local age requirement to change any time soon.
Michigan Minimum Legal Poker Age
There are technically two different poker gambling ages in Michigan, and they depend on how and where you play. To play poker in Detroit at a commercial casino, you'll have to be at least 21 years old. You also have to be 21-plus to play online poker with any state-based operator.
If you want to play poker at a tribal casino in MI, many such facilities allow players at just 18 and up. Keep in mind that these 18+ venues have no online components, and their poker tables are in-person only.
Players aged 18 or older can also play online with any offshore operator featured in our guide. This last option is not only the most convenient, but it takes out all the guesswork surrounding legal gambling ages, too.
List Of Poker Rooms In Michigan
Bay Mills Poker Room – Brimley
Island Poker Room – Harris
Kewadin Poker Room – Christmas
Kewadin Poker Room – Hessel
Kewadin Poker Room – Manistique
Kewadin Poker Room – Sault Ste. Marie
Kewadin Shores Poker Room – Ignace
Kings Club Poker Room – Brimley (N/A, currently closed)
Lakeshore Poker Room – Muskegon (N/A, pending launch)
Leelanau Sands Poker Room – Peshawbestown
Little River Poker Room – Manistee
Northern Waters Poker Room – Watersmeet
Odawa Poker Room* – Petoskey (19+)
Ojibwa Poker Room – Baraga
Ojibwa Poker Room – Marquette
Saganing Eagles Landing Poker Room – Standish
Soaring Eagle Poker Room – Pleasant
Turtle Creek Poker Room – Williamsburg
*The Odawa Casino in Petosky minimum age to play is 19 years old. This makes it one of the few US gambling venues to go with a non-standard (i.e. non-18 or non-21) minimum age requirement.
FireKeepers Poker Room – Battle Creek
Four Winds Poker Room – Dowagiac
Four Winds Poker Room – Hartford
Four Winds Poker Room – New Buffalo
Grand Traverse Poker Room – Acme
Gun Lake Poker Room – Wayland
Odawa Poker Room – Mackinaw City
Greektown Poker Room – Detroit
MGM Grand Poker Room – Detroit
MotorCity Poker Room – Detroit
How To Play Online Poker In Michigan
If you're 21 or older, you can play poker online in MI by joining a domestic operator or by playing offshore. However, if you're 18-20 years old, your only option is to play offshore.
Of course, that's actually the best option regardless, so you're playing a winning hand no matter what when you sign up with any of the sites recommended here.
Joining these trusted 18+ poker sites is easy and fast, too. Here's all you need to do:
Follow any link here visit to a legit online poker room and click/tap the "Join" or "Sign Up" button.
Enter in all required personal information, taking care to use only real, verifiable data. All the best sites use Know Your Customer (KYC) procedures to secure your account.
Make a deposit using any accepted banking option. We recommend Bitcoin or another supported crypto coin, but all methods are safe and reliable.
Choose an optional online poker bonus. Since these have no playthrough/rollover requirements, we recommend that you always accept any available poker promotions.
Navigate to the "Poker" tab of your site, pick a cash table or upcoming event, and ante up!
Note: Some players still prefer to install online poker software downloads on their Windows or Mac computers. While this is a solid option, most gamblers now play through their web browsers. The web-based method requires no downloads, updates, or dedicated poker apps, and it's what we recommend for MI players.
Michigan 18+ Online Poker Tournaments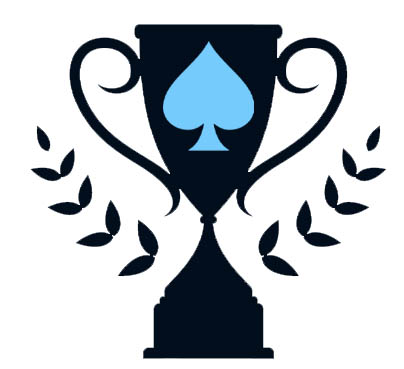 There are online poker tournaments in Michigan available through both domestic apps and offshore 18-and-up poker rooms. Of course, if you're under 21, only the latter applies to you. And that's all the better!
Offshore online poker tournaments have far more players in the mix, which means you'll always find more daily Sit-N-Go events and enter the biggest possible major poker tournaments. It's a win-win. Plus, those big weekly online poker tournaments tend to have huge six-figure payouts for final table winners.
In general, smaller Sit-N-Go poker games take 1-2 hours to play, depending on the numbers of players and rounds. Meanwhile, marquee events are usually conducted over a few days, with round-robin play commencing per your site's online poker schedule.
If you join two or three sites, you can basically guarantee a constant tournament run. And there's no better poker run than that!
MI Online Poker Banking Methods
There is no free online poker option at any legit offshore 18+ betting site. Poker is exclusively a real-money gambling game. However, you do have several different options when it comes to moving money into (and, after you win, out of) your online poker account.
The best-reviewed 18+ poker sites all take Visa and Mastercard credit and debit cards, but we strongly advise you to use a supported cryptocurrency if at all possible. Crypto coins are the best online poker banking methods.
Crypto deposits can never be declined or interrupted, associated fees are minimal, and they're the most secure options going. Crypto is also the only method that supports same-day payouts, and the stuff has legit investment potential, too.
Deposits: Cryptocurrency (Bitcoin, Bitcoin Cash, Litecoin, Ethereum, Cardano, Solana, Tether, Dogecoin, etc.), Visa, Mastercard, American Express, Discover, Cashier's Check, Bank Wire, Money Order, Retail Money Transfer, Gambling Voucher, MatchPay
Withdrawals: Cryptocurrency, Courier Check, Bank Wire, Retail Money Transfer, Gambling Voucher, MatchPay
MI Online Poker Bonuses And Promos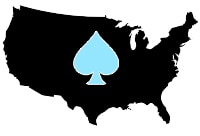 One of the best reasons to join established 18+ online poker rooms hosted outside of MI (other than the fact that you can legally play at eighteen years of age, we mean) is that these sites always give you the best possible bonuses.
Most brick-and-mortar poker rooms and domestic online poker sites aren't going to give you very big bonuses – if they give you any bonuses at all. But online, poker promos are always part of the pot.
Most legit sites will match your deposit by 50-100% for $500 or more in online poker bonus cash. And here's the best part: There are no wagering requirements. Unlike regular betting bonuses, poker bonuses are disbursed as you play hands at cash tables and in online poker tournaments.
For example, most sites give you 30 days to "earn" your bonus, which is paid out in chunks. These chunks are in turn deposited into your account as cash. (A common rate we see at many sites is $5 of bonus cash for every 250 or so games played.)
Each site's terms will be a bit different, but this is the general model that all the most reputable operators use. As such, poker bonuses are always 100% risk-free, and there's never any reason not to accept them!
Michigan Mobile Poker Apps

If you play online poker, you probably play mobile online poker. Modern smartphones and tablets are the perfect way to play at home or on the go, with easy touchscreen controls, flexible Internet connectivity, and that all-important convenience factor. Plus, poker is inherently a "pick-up-and-play" type of game – You can play for a few minutes or a few hours, any time you want. That screams "mobile."
But if you go looking in the App Store or Google Play store for an iPhone poker app, iPad poker app, or Android poker app, you're not going to find one suitable for 18+ players. You will find Michigan poker apps in these stores, but remember: These are domestic state-licensed products and are only available to players 21 and up.
Even worse, these poker applications are geo-fenced, which means you can't play in a MI poker room unless you're physically inside the Wolverine State itself!
On the other side of the online poker chip, the best offshore sites require no downloads or installations – They're available right through any modern web browser. As "web apps," these poker rooms have no restrictions. Eighteen-year-olds can freely join, and they can play from anywhere inside or outside Michigan.
Note: It is possible at most sites to download special online poker software. This allows you to play inside a dedicated application on your Windows/Mac computer. However, due to potential compatibility issues, we recommend playing via your web browser regardless of device used.
Yes. Michigan is actually one of the most poker-friendly states in America.
While there are no real standalone MI poker rooms or MI card rooms to speak of, the state's nearly 30 commercial and tribal casinos all offer poker.
You can also play domestic online poker in Michigan, and there are no laws preventing players from joining legit offshore poker sites, either. 
Yes! In January 2021, the Wolverine State finally legalized domestic online poker.
Fewer than 10 US states offer legal online poker in a domestic capacity, and Michigan is one of them.
That being said, state-based online MI poker rooms are limited to players aged 21 and older. There are no domestic online options for players under 21 years old.
Yes! There are no MI gambling laws or US gambling laws that make playing online offshore poker illegal in any way.
The only caveat is that you need to make sure you join a trusted, reputable operator.
No. At least, you can't play real live poker online for free.
The sites we recommend here for 18+ poker action all feature dedicated casinos in addition to their poker rooms, and you can play free online video poker at most venues.
That's not the same thing, though.
Still, wherever available, free video poker is a good way to learn the basic poker hands, best poker strategies, and so on before making your way to the actual multiplayer tables.
Yes. As in most legal poker states, MI allows residents to play poker in private settings.
There is no age restriction for these activities, and the only rule is that no entity can operate "as the house" and "take a cut."
As long as all involved monies are contributed by the players and fully paid out as winnings, Michigan social poker is 100% legal.
Not in any official capacity. All commercial poker, tribal poker, and online poker in MI is age restricted to at least 18-plus.
At commercial Detroit casinos and domestic online MI poker rooms, the legal poker age is 21 and up.
Meanwhile, at select Michigan Indian casinos and all the offshore poker sites featured here, the legal poker age is 18 and up.
For under-18 poker, your only option is to play private home poker games with your friends.
No. While you can play charity poker in MI at just 18+ (though there are very few such venues), you cannot play charity poker – or any other charity gambling game such as bingo or pull-tabs – under the age of 18.
If you wish to legally play poker in Michigan under 18, you will have to play social poker/home poker games.