Indiana Online Poker For 18+
Indiana has a long history with casino gambling, and has hosted real money games on riverboat gaming floors for over a century. Five card stud, and other variations of poker games have been played for cash in Indiana since its territory days, and now, the state contains several water and land-based casinos with poker rooms, but do they allow for bettors that are 18 years old?
Indiana's domestic poker rooms are restricted to gamblers that are over 21 years of age. Under-21 poker players have options for real money play in the Hoosier State, and our guide to Indiana online poker for 18+ will reveal the top destinations to do so legally. We'll also detail the 21+ poker rooms, and describe the options available to gamblers at the best 18+ online poker sites.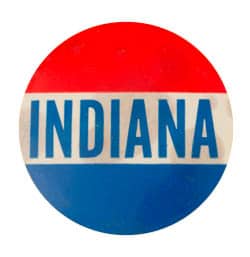 Best Indiana Online Poker Sites That Accept Players 18 And Up In 2023
Is Poker Legal In Indiana For 18+ Players?
The poker rooms located within Indiana's land-based casinos require that gamblers be at least 21 years of age to enter the premises. 18 and up poker players in IN have two options for real money games. The first option is to visit a nearby US state featuring 18+ domestic poker rooms. The second is to play poker online with one of our premium online over-18 casinos that cater to under-21 players listed above.
Is Online Poker Legal In Indiana For 18 And Up?
Indiana state laws require a minimum age of 21 years old to enter a regulated casino and play in their poker room or on their gaming floor. However, gambling laws at either the state or federal level fail to address playing poker for real money with a casino site operating outside of the USA.
If you are at least eighteen years old and you would like to play real money poker inside of Indiana's borders, you can do so with one of the poker sites that we've listed above. They accept members beginning at 18 and there's no laws on the books saying that you can't participate.
Indiana's Minimum Poker Age
State law requires that gamblers who want to enter and play poker at a state-regulated casino must be at least 21 years old. All of the below IN casinos feature poker rooms and allow for 21+ patrons to partake. 18, 19, and 20-year-old poker players should refer to the above section for legal real money poker options in Indiana.
Blue Chip Casino Hotel
Caesar's Southern Indiana
Hollywood Casino Lawrenceburg
Horseshow Hammond
Majestic Star Casino
Tropicana Evansville
Over 18 Poker Tournaments Indiana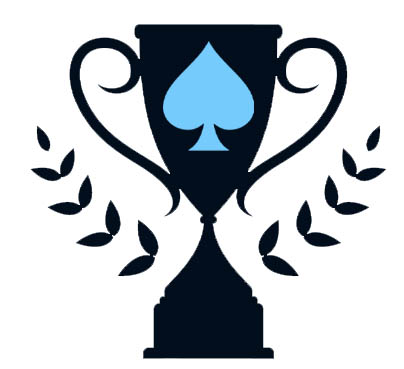 Because Indiana law restricts those that are twenty and younger from playing poker for money at state-run casinos and poker rooms, the tournaments that they are offer are off limits to 18+ gamblers. No worries. Our online poker sites feature routine 18 and up poker tournaments that are as short as fifteen minutes or can last an entire week.
Prizes range from $5 of bonus cash to seven-figure pools, and entrance fees can be earned for free in some cases. Browse the tournament schedules at our top-rated over-18 poker sites to see which competition fits your schedule and ante amount the best.
IN Poker Deposit Options
When you rake in huge winnings at the poker table, do you want to wait 24 hours or more to collect? Of course not. That's why we recommend using Bitcoin (BTC) as a method of withdrawal from international poker sites, because it is the only currency that allows for a same-day payout.
Cryptocurrency deposits typically allow for increased bonus offers as well. Offshore casinos love them some BTC, and it makes sense. Since Crypto is unregulated and includes built-in top-level encryption, it provides for the quickest and most secure transactions.
Currencies accepted at international poker sites include:
Deposit: Cryptocurrency (Bitcoin, Bitcoin Cash, Ripple, Ethereum, Litecoin, Tether), Wire Transfer, Money Transfer Services, Cashier's Check, Credit Card, Debit Card
Withdrawal: Cryptocurrencies, Wire Transfer, Cashier's Check By Courier, Voucher
Indiana Online Poker Bonuses and Promotions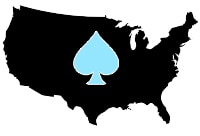 The international poker sites that we recommend above feature promotional offers in the form of bonus cash to entice new members to join up with them. Players who are 18 and over can enhance their bankrolls when they sign up by accepting a welcome bonus that will match a portion of their first deposit.
Each poker site will vary, but typically, they award these prizes in small lump sums based on the amount of gameplay the 18+ player has participated in. Be sure to check the terms and conditions for what types of poker games qualify for bonus cash, as some award higher than others, while some games don't count toward the bonus at all. Accepting a bonus is not a requirement of membership.
IN Mobile Poker Apps For 18+

The offshore poker sites that we suggest also offer their services over modern smartphones and tablets such as iPhones, iPads, and Android-based gadgets. Using an up to date mobile browser like Google, Chrome, Opera, Safari, or Firefox, simply click on one of our casino site links and you'll be granted access to all of the games that the PC or Laptop-based site offers.
No download is required. The poker applications are web-based and can be accessed quickly. Real money 18+ poker can be played at Lucas Oil Stadium during a Colts home game, or in John Cougar Mellencamp's backyard swinging in a hammock with the mobile poker apps offered by our best under-21 poker sites.
Live 18 And Up Poker In IN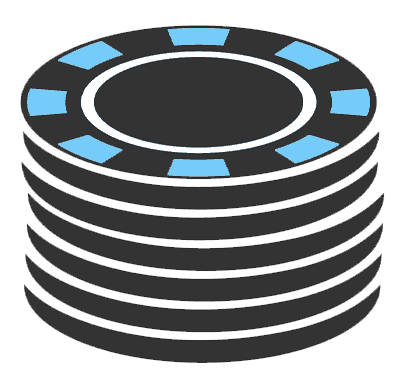 There is no substitute for the real thing when it comes to playing a hand of poker with some cash on the line. Online poker sites agree, and do not offer live dealer poker options. There's no real benefit to a live feed video showing the dealer deliver the cards.
The medium could be useful if all of the player's faces were shown, allowing for other gamblers to pick up on tells and other signs, but that's not realistic or even desired at this time. The games that are offered at our best over-18 poker websites are live, in that there are real players participating, and have successfully prepared many World Series of Poker players for real competition.
Yes, poker rooms are legal and there are several located in state-regulated and tribal casinos throughout Indiana. These facilities require a minimum age of 21 years old to enter. Gamblers that are under 21 can play poker for real money online with an international casino site.
Yes. Since there are no state laws that forbid – or even mention – offshore gambling, international poker sites operating outside the jurisdiction of the USA can legally offer their services to 18 and up gamblers in Indiana.  
Yes, but not at a domestic casino, because the minimum age for entry is 21. 20 and under poker players can participate in cash games at online casino sites like the ones listed above without fear of penalty from any regulatory agency.
Yes. Many of the poker sites that we've listed in this guide offer free play of their real money games, which provide the best practice available. Don't learn the ropes while money is at risk. Participate in the free play versions at our offshore casinos to become a card shark prior to playing for cash.