US States That Offer 18+ Online Poker
Which state offers what type of poker games for 18-year-old gamblers is a question that can be quickly answered using our comprehensive state index. Our guide brings clarity to an industry that can be tough to navigate without a little help. We'll show you the best online poker sites for each state, as well as the top in-person casinos operating in each region.
We'll also navigate the legalities of playing poker in each state, and show you what venues can be accessed for playing the most popular card game of all time. If you are of adult age and are looking for the best option for legal poker sites for 18-year-old players, then read to become informed. Get ready for the flop!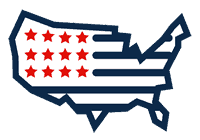 Best Online Poker Room Sites For US Players 18 And Up In 2023
Is Online Poker Legal In USA States For 18+ Players
Yes, online poker is legal to play for real money for bettors 18 years of age or older in all states except Washington, where laws are present that prohibit online gambling in all its forms. Still, there's no record of anyone ever getting fined or arrested for playing online poker in WA, but you should follow all local laws and proceed with Internet gaming at your own risk.
There are a few states detailed below that allow for in-person or online poker play for 18-year-olds at brick-and-mortar casinos, but if you don't live in or near one of those regions, offshore poker sites are always going to be the best option.
States With Domestic Legal Online Poker
Although many states offer legal poker at casino tables, not many offer online poker via internet-ready devices. The four that do allow for such services require players to be at least 21 in order to play real money games on their state-regulated poker sites.
Although online poker is offered legally from select casinos located within these states, wagering is only allowed if bettors are located within the state's boundaries.  The Federal Wire Act prevents the transfer of funds across state lines for the purposes of gambling, thus squashing the ability to play poker online for real money if you live in any other state than the four mentioned here:
Delaware
New Jersey
Nevada
Pennsylvania
List Of States Allowing Legal Offshore Poker for Players Under 21
There are no federal gambling laws on the books that prevent US citizens or residents who are at least 18 years old from playing online poker for real money at legal offshore poker sites. Washington has passed state laws that specifically outlaw online gambling, but playing poker online at an overseas venue is not prohibited in other states in the USA.
And even with the restrictions in WA, all the top sites accept gamblers from there. Still, as stated, you should abide by your state's laws and only play online when you're outside WA's borders.
Nebraska
Nevada
New Hampshire
New Jersey
New Mexico
New York
North Carolina
North Dakota
Ohio
Oklahoma
Oregon
Pennsylvania
Rhode Island
South Carolina
South Dakota
Tennessee
Texas
Utah
Vermont
Virginia
Washington*
West Virginia
Wisconsin
Wyoming
* Passed state legislation to outlaw online betting.
What Is The Minimum Age To Play Poker In The United States?
Almost all domestic casinos that offer in-person and online poker tables require that gamblers be at least 21 years of age. However, the legal gambling age by state varies but wagering in an online poker room at one of our recommended offshore casinos allows options for players that are 18-years-old, a full three years younger than most in-country alternatives.
USA 18+ Mobile Poker Options
States that have regulated their gaming and offer mobile poker betting usually require players to be at least 21 years old, thus disqualifying 18-year-old gamblers. Being 18 isn't a problem if you use a reputable 18+ poker site, because being of adult age is the only requirement for membership.
Our recommended offshore casinos offer mobile poker play through the use of web apps. Accessed via any popular mobile web browser such as Chrome or Safari, these web apps are designed to dynamically fit the size of your device's screen and provide an app-like experience without the need for a pesky download or any annoying updates. Just navigate to the poker room and double-down!
Live Poker Near Me
Quite a few states allow poker games at commercial and/or tribal brick and mortar casinos and card rooms. The states that allow live poker for 18-year old players are as follows:
California
Florida
Michigan
Minnesota
Montana
Oklahoma
Wisconsin
Wyoming
Keep in mind that casinos do have the option to impose their own policies regarding their age requirements for playing poker, and to appease liquor licensing mandates, some establishments opt to exclude the younger players.  So even if a state allows 18+ poker, some individual casinos and card rooms may not.
Bonus Poker Options For Under 21 Players
Almost all online poker sites operating offshore offer bonuses that are based on a percentage of your initial deposit(s).  This is one way they compete with one another and incentivize players to try them out.  Poker bonuses are disbursed incrementally as you play.  The more you play, the more of your bonus money is released into your account.  Unlike casino bonuses, poker bonuses don't typically carry wagering requirements because you are using your gameplay to access the funds.  Our recommended sites also offer reload bonuses, special promos, and robust rewards programs.
18+ poker players have a few options:
If you live in one of the states listed above that allows 18 and up real money poker, then you may have casinos and card rooms available locally that welcome you with open arms.
All of the online poker sites you see listed on this page accept players who are 18 and over, and they are each operating legally within the industry.
Most states with casinos and card rooms that allow players who are under 21 to play real money poker also welcome them to any tournament events they host.  If you are not near a brick and mortar option, the poker sites on this page all offer tons of poker tournaments around the clock with a variety of buy-in options.
Home poker games are not against the law in most of the United States, as long as it is a social game amongst acquaintances and money is not taken in by the "house" or any organization of any kind. It is legal to play home poker games for money, and if you are far away from a state that offers in-person tables, such friendly digs can offer the best live gaming experience this side of Las Vegas. Please note that social poker is currently illegal in Hawaii and Utah, though both states have thriving poker cultures, and the laws are entirely unenforced.
Strip poker is not available at our top-rated offshore casinos, but if you end up locating a game online, we do not recommend participating. Removing your clothes while in front of an online camera feed can have long-lasting detrimental effects on your life and can be posted on the internet for anyone on earth to access.
Still, if you want to get naked while you play in an online poker tournament, that's your business. Just make sure you're at home when you do, because trust us – those Starbucks employees are not going to be impressed!
Yes, many of our offshore poker casinos offer free play to allow for practicing without risking any money. We advise practicing as much as possible to gain experience and build your strategy so that you know what to expect once the real gambling action begins. There are many free poker variants available at our recommended sites, typically in the casino under the "Video Poker" designation.
No, unfortunately not. WSOP qualifiers are limited to just a few in-state casinos and card rooms in the US, mainly in Nevada and New Jersey. However, you can certainly get a lot of good practice in at any offshore poker site, which you can then use to your advantage for an in-person run at a WSOP bracelet.
If you are inside the boundaries of a state that offers brick-and-mortar casinos and poker tables, chances are they are offering poker tournaments and have a schedule available. If not, don't worry, because offshore casinos operating online host poker tournaments for a bevy of different prizes and entry fees, 24-7-365.
If you are 18 years old are you are looking for a poker room near you that offers in-person tables, there are a few states that provide this service. 18+ players are allowed at certain casinos in California, Florida, Michigan, Minnesota, Montana, Oklahoma, Wisconsin, and Wyoming. Poker hands are being dealt as we speak, so what are you waiting for?