18+ Online Poker In Delaware
Delaware was the first state to enter the Union that would eventually become known as the United States of America. The region is no stranger to innovation, as it was also the first state outside of Nevada to allow for regulated online poker in 2013. DE offers many viable poker games for real money options, but are any of them feasible for 18-year-old players?
Our guide to 18+ online poker in Delaware provides insight into the best real money betting sites for 18-year-old players and what can be expected once arriving there. We'll also discuss the legal aspects of online poker rooms and what exactly makes an online gambling site a legitimate option for poker players in DE.
Best Delaware Online Poker Sites That Accept Players 18 And Up In 2023
Is Poker Legal In Delaware For 18+ Players?
The minimum age to play poker at a brick-and-mortar facility in Delaware is 21 years old. The same can be said for the online card games that these DE betting facilities offer. However, 18-year-old players have the option of becoming members at offshore poker rooms operating online.
Although DE has laws that outline online gambling in-state, there is no mention of gambling with an offshore entity through any online means. That means that there is no law to violate and no rules that can be broken by gambling with an 18+ offshore poker room.
Is Online Poker Legal In Delaware?
Yes, the First State is also one of the earliest adopters of online gambling. In 2012, a law was passed to allow their in-state facilities to offer online poker. In 2013, these services went live, and in 2014, they signed an agreement with Nevada to share their online poker region and player pool.
These Delaware-based facilities require a minimum age of 21 years old to play. Players in DE that are 18 and over have the option of playing poker online for real money with an offshore poker room. Just like in many other US 18+ poker states, offshore gambling through an online means is not detailed in DE law. Therefore, no laws are being broken when using one of these online poker room sites.
Minimum Age To Play Poker In Delaware
Delaware's in-state poker rooms require a minimum age of 21 years old to play, but offshore poker rooms operating online accept members that are 18 years old, which is a considerable three-year head start over Delaware's in-state facilities.
Because the state has a legal poker age on the books, some users prefer to wait until they reach 21 before playing offshore poker, but we've never heard of any 18-20-year-old poker players getting in trouble in DE for playing online under 21 years of age.
Delaware Online Bonus Poker Options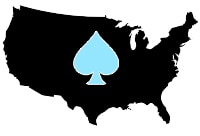 Our top-rated 18+ poker sites each feature different welcome bonuses, but all of them are based on a percentage of your initial deposit. They typically range between $500 and $1000 and are awarded in increments based on the earning of poker comp points. These points can be acquired through the completion of poker hands. These bonuses are literally free money as they do not include any requirements for extended play (i.e. playthrough or rollover) before cashing out.
Bonus promotional offers are extended to 18+ players who successfully recommend a friend to join their online poker site. Bonus cash for referrals hovers around $150. As with any bonus, read through the terms and conditions before accepting. It is up to the player whether they want to accept poker bonuses, and it is not required when becoming a member or making a deposit.
The Best Mobile Poker Apps in DE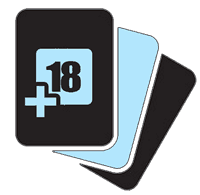 Delaware poker can be played on the go with Apple iPhones and Android devices via downloadable applications that are available from the websites provided by in-state poker rooms. Delaware shares their online poker player pool with the state of Nevada, offering those inside the First State many more options for online poker play for real money.
Online gambling apps are also available from top offshore poker rooms. The web apps available at our top-rated 18+ poker gambling sites operate through the use of mobile browsers such as Google Chrome, Safari, Firefox, or Opera, and do not require a download at the Google Play Store or Apple's App Store. Just click on one of our recommended Delaware online poker rooms, and the site will adjust to the size of any screen while providing full touchscreen gameplay, just like a real app.
18 And Over Delaware Poker FAQs
Yes, poker for real money is available both online and off from DE gambling facilities, and it requires a minimum age of 21 years old to play. 18+ poker can be played online legally via an offshore betting site operating offshore. There are no laws on Delaware books mentioning offshore gambling, and these sites accept members starting at 18 years old.
Social poker games are not against Delaware law or US gambling law so long as acquaintances play the game in a private setting and there is no portion of the pot that is given to the "house" for hosting the game. Gambling laws target the entities that offer the games, and not the gamblers placing the bets.
Many of our top 18+ poker rooms offer free-play versions of their real money poker games (typically in the Casino sections as video poker titles). We advise playing as many free poker hands as possible to develop a sound strategy and to learn the functions of the online game. Free poker play will proceed identically to when money is on the line, so it is an essential tool for any 18+ player to keep in their belt.
The two gaming facilities listed above in this guide offer frequent tournaments and have schedules posted on their websites detailing the times and rules. These tournaments are open to players that are 21 years old and over.
Our best online poker rooms listed on this page allow for 18-year-old members and have poker tournaments occurring throughout the day. These offshore poker sites also offer premium tournaments that occur less frequently and feature higher cash awards. One such tournament offers a grand prize of up to $250,000!
Although it is often tough for 18-year-old players to find a reputable poker room, we do not recommend participating in any underground or illegal poker games of any kind. There are many 18+ friendly options detailed above that offer secure financial transactions and secure data encryption. Don't risk getting into trouble at a seedy, back-alley poker game. Visit one of our top 18+ poker sites and stay within the confines of the law.