18+ Texas Holdem - Legal Online Texas Holdem for Players 18 and Up
Today, Texas Hold'em is synonymous with poker due to immense popularity throughout the world. Due to this popularity, access to the game is available in casinos, designated poker rooms, and online. Although most places require players to be 21 and up, there are multiple options for players that are only 18 and up.
This guide will not only show 18+ players all their brick and mortar and online Texas Holdem options, but it will also provide helpful information on poker legalities, where to play Holdem, tournament facts, and other common questions.
Best Online Poker Sites to Play 18 and Up Texas Hold'em In 2023
Can 18-year-olds legally play Texas Holdem?
One of poker's most popular variations, Texas Holdem can be played by anyone at any age. However, in order to play Hold'em for real money through online poker sites or brick and mortar card rooms, players must be at least 18 or over.
In many cases, casinos required patrons to be 21 and up. But with the growth of online casinos offering Hold'em and some states even offering in-person poker rooms, 18-year-olds have many options for legal gameplay.
Texas Holdem Near Me - States That Allow Players Who are 18+ to Play Texas Hold'em
USA gambling laws vary from state to state. For example, some states only allow gambling for 21+ players. In other states, 18 and over patrons can play poker in designated card rooms.
The following list of states offers Texas Hold'em, among other popular poker games, to 18+ players.
California Poker (certain tribal casinos)
Michigan Poker (certain tribal casinos)
Minnesota
Montana
Oklahoma (certain tribal casinos)
Wisconsin
Wyoming
If a prospective poker player lives outside one of these states, there are still options available. Texas Holdem through one of the online poker rooms recommended on this site provides an option for US players that are 18 and over.
Other than state laws in Washington, there are no federal laws that prohibit online Texas Hold'em in the United States. The online poker rooms featured here not only offer online Hold'em, but the sites are also mobile-compatible.
In essence, every Hold'em player that is 18+ can at least enjoy poker online or on their mobile device if using one of the online poker rooms mentioned here.
What is Texas Holdem?
Texas Hold'em is a variation of poker that started in Robstown, Texas in the early 1900s. The game gained popularity through the 20th century and eventually made its way to Las Vegas by the 1960s. By the 1980s, Hold'em was popular throughout the United States, eventually becoming the most popular contemporary poker game.
The game is actually rather simple. Players receive two cards each. After betting has ended for the round, three community cards (the flop) are revealed. After another round of betting, another community card (the turn) is shown. Finally, with one more round of betting, the final community card (the river) is flipped. Any players left may bet again before the winner is determined by the best hand.
Variations of Texas Hold'em Games
With the popularity of Hold'em throughout card rooms, variations of the game are abundant. The following are just a few of the many forms of Texas Hold'em:
Pineapple: For pineapple hold'em, players receive three hole cards instead of two. In the regular version of pineapple, players discard one card before the flop. If playing crazy pineapple, discarding doesn't happen until after the flop. The rest of the game is the same as traditional Texas Hold'em.
Omaha: Some purists don't consider Omaha to be a variation of Texas Hold'em at all. We'll include it here just in case. In Omaha, players receive four cards instead of two. The betting process is the same until the end when players must make the best hand using two of their hole cards and three from the board.
Irish: This version of Texas Hold'em is a mix between Omaha and pineapple. Players receive four cards and discard two before the flop. The rest of the game plays out like regular Hold'em.
Two-times: Another Omaha-like variation of Hold'em, players get four cards but must split them into two separate hands. At the end of the round, players then choose which of the two to play.
Online Texas Holdem for 18+ Players
For players that do not have access to brick and mortar poker rooms at 18 years old, or for those that want the flexibility of playing through a web-based casino, the option still remains with online Texas Hold'em.
Online Hold'em players 18 and over can sign up with any of the online cardrooms featured on this site to immediately gain access to safe, legal real money poker.
For players that do not feel that online Hold'em is worth it, there are a few perks to online play that brick and mortar poker rooms may not be able to offer. First, online Texas Hold'em allows players to utilize speed play. This setting creates faster gameplay, thus giving players more hands. Another big perk to online Hold'em is the ability to play multiple hands. In traditional poker rooms, playing multiple hands and multiple tables is either frowned upon or completely against room regulations. However, with online poker rooms, players can play many hands without breaking any rules.
Mobile Texas Holdem Poker
One of the biggest draws for online Texas Hold'em, other than the fact that online card rooms accept 18+ players, is the ability to play poker on almost any mobile device. If a player uses one of the online poker rooms featured on this site, mobile Texas Hold'em play is possible.
Through the full site's mobile optimization, any compatible device hosts a mobile Texas Hold'em app without the need to download additional software. With this web-based app, players have full access to their user accounts, deposit and withdrawal options, along with the full gamut of Texas Hold'em games available on the desktop version od the site.
18 and Up Texas Holdem Tournaments
One of the best tests of skill for Hold'em players in poker tournaments. Luckily for 18+ players, Hold'em tournaments are available in online poker rooms as well as select brick and mortar rooms.
This page will go into more detail about each as there are a few key details players need to know. The main thing to understand, however, is that tournaments vary depending on the day, location, and buy-in amounts. It is always wise to check with the local poker room or online casino to see the specifics for each tournament.
Texas Hold'em Tournaments Near Me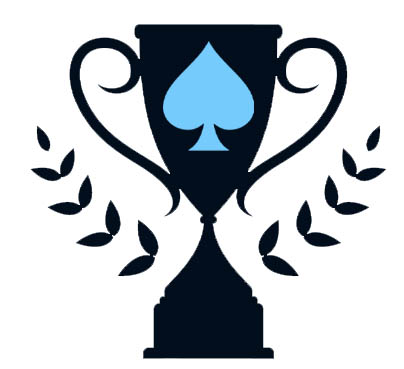 If an 18+ player is lucky enough to live in a state with an accessible poker room, it helps to know what to expect before entering an in-person tourney. Again, tournament formatting and rules vary depending on location, but the following is the general idea for brick and mortar tournaments:
The first thing to do is find a Hold'em tournament in your area. This should be easy with the help of the internet or a quick call to the local poker room. Once a tournament is found, the next step is to show up.
Most Hold'em tournaments will have a sign-up process for players that includes buying-in, paying any necessary fees, and providing any personal information to the room. At this point, players are assigned a table, seat, and chips.
After sitting, there's nothing left but to play. Some tournaments may be as short as a few hours while others can last days or weeks. Before starting a Hold'em tournament at a brick and mortar establishment, make sure you know how long you're in for.
Online Texas Holdem Tournaments
Finding an online Texas Hold'em tournament could prove easier for most poker players 18 and over. First of all, online tournaments are just a few clicks away compared to a brick and mortar poker room that could be miles away.
Once a player has an account and has downloaded any appropriate Hold'em tournament software, they are essentially "signed up" for the tourney as soon as they buy-in. Tournament buy-ins can vary greatly based on the online poker room and the type of tournament desired. For example, a quick sit-and-go tournament's buy-in could be as little as $1. But for larger tournaments, such as a $1.5 million guarantee, the minimum buy-in could start at $125 or more.
Players are then able to take a spot on the table and begin the tournament. Generally speaking, the winner from each table continues through the tourney until all players are at one final Hold'em table. The final table winner then becomes the overall Hold'em tourney champion.
Most of the Hold'em tournaments with online poker rooms are traditional monetary prizes from play-until-one-remains showdown formats, but others have different outcomes. For example, some Texas Hold'em tournaments are qualifiers for other events.
It is possible to play for a spot in a World Series of Poker tournament through online Hold'em events. In other cases, players can win vacation trips, cars, and even kitchen appliances. This flexibility in tournament options, the prizes, and the ability to advance to grander stages are all huge bonuses for online Hold'em players compared to limited offerings at brick and mortar poker rooms.
Minimum Gambling Age for Playing Texas Holdem Online
To participate in Texas Hold'em for real money online, players must be at least 18 years old. This minimum gambling age is the requirement across licensed and regulated online poker rooms, including all the sites featured on this page.
If an online poker room allows players under the age of 18, we recommend avoiding them as they may not be licensed, safe options for Texas Hold'em.
While Texas Hold'em and video poker share some similarities, the games are totally different. First of all, video poker is just a type of gameplay style, which includes games like Deuces Wild and Jacks or Better. With these games, players play alone against random number generation.
Playing Hold'em online is done against multiple real players and involves less randomness. Unlike a table game or video poker, Hold'em requires players to utilize strategy and chip management against other players that can also act and react.
For the most part, online Texas Hold'em is played against other real players. If a Hold'em game is strictly against computers, the player will know from the beginning, usually by the game settings or instructions.
Since online Texas Hold'em is generally played against other real players, there are fewer options for free play. However, Hold'em free play is available through certain sites, which is most beneficial for new 18+ players, but it's a little trickier to do.
Some online cardrooms will offer their players poker deposit bonuses in the form of freerolls. Once a deposit is made and the freerolls are available, players can find the specific tournaments that accept the freerolls and play.
While a real money deposit technically has to be made, Texas Hold'em can be played for free if done solely through the freeroll bonuses.
There are likely multiple websites that allow players to engage in strip Texas Hold'em poker online.  However, it is safe to say that online poker rooms that offer strip Hold'em are not reputable, legitimate card rooms that players should be involved with. We urge you to stay away from this type of online poker entertainment.
To play Texas Hold'em for real money online, licensed and regulated poker rooms require their players to be at least 18 years old. As a result, all of the recommended online poker rooms featured on this page require players to be 18 and over.